Civil Rights Struggles, from the Beach to the Courthouse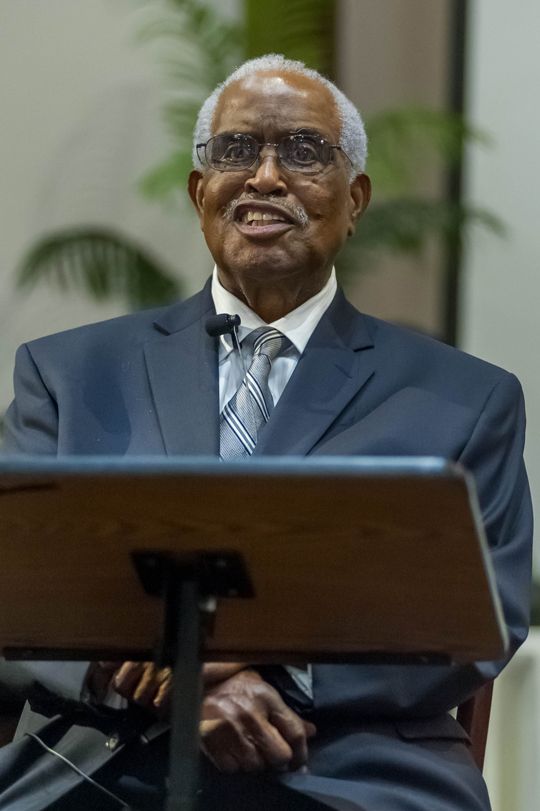 On February 23, 2017, over 180 people gathered at the Old St. Andrews Church for this event commemorating Black History Month. The event was hosted by the Jacksonville Historical Society, the Jacksonville Chapter of the Federal Bar Association, and the D.W. Perkins Bar Association. Sponsorship was provided by the Middle District of Florida's Bench Bar Fund.
Civil Rights demonstrations took place in St. Augustine in 1963 and 1964 that gained worldwide publicity, ultimately leading to the passage of the 1964 Civil Rights Act. The program explored the demonstrations and subsequent arrests, the legal cases that arose out of them, and the resolution of those cases in the Jacksonville courtroom of United States District Judge Bryan Simpson. Judge Simpson's rulings in cases brought by the NAACP and the Southern Christian Leadership Conference, among others, stirred passionate controversy at the time and subjected him to significant personal attacks. Owing to his courage, Jacksonville's U.S. Courthouse, at 300 North Hogan Street, bears Bryan Simpson's name.
Speakers for the event included Mr. Thomas Jackson, a lifelong St. Augustine resident who witnessed the memorable events of that summer as a teenager, and the Honorable Joseph W. Hatchett, former Chief Judge of the United States Court of Appeals for the Eleventh Circuit and a former Florida Supreme Court Justice. Judge Hatchett was a Cooperating Attorney with the NAACP Legal Defense Fund from 1960-1966. He shared vivid recollections of the period. Mr. Jackson was introduced by Dr. Alan Bliss, adjunct professor of history at the University of North Florida, and Judge Hatchett was introduced by U.S. District Judge Bryan Davis, of the Middle District of Florida, Jacksonville Division.
One of the key cases heard by Judge Simpson was Andrew Young v. L.O. Davis et al., Case No. 64-133-Civ-J (M.D. Fla.). Early in the case, in response to the Plaintiff seeking a temporary injunction, Judge Simpson issued Findings of Fact and Conclusions of Law and a Preliminary Injunction. Many other case documents were gathered in order to prepare for the program and would gladly be shared upon request.
A video of the February 23 event will be posted shortly. Thank you for your interest!